Novagraaf's trademark and patent practices recommended by Leaders League
The trademark and patent expertise of Novagraaf's offices in France, Switzerland and Belgium has once again been recommended in Leaders League 2023 rankings by Décideurs Magazine, in seven categories.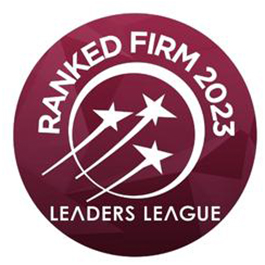 Leaders League has released the results of its 'Intellectual Property Consultancy 2023 ranking survey', in which Novagraaf is praised for its trademark and patent work in France, Switzerland and Belgium.
In France, in the trademarks, designs and models category, Novagraaf was recognised as 'unavoidable', and as 'excellent' for patents in the following four technical specialties: Patents (general), Electronic telecommunication patents and new technologies, Physics, mechanics and construction patents, and Chemistry, biotech & life sciences patents.
In Switzerland, Novagraaf was singled out as a 'reputable practice' for patent prosecution. While Novagraaf Belgium, headed by Ingrid Mennens, was recommended as a 'highly notable practice' for trademark prosecution.
Marie-Noëlle de la Fouchardière, Managing Director of Novagraaf France's patent team, said: "We are delighted to have been recognised in four categories by Leaders League again this year. Our specialised patent team works hard to support our clients across a wide range of industries, bringing all of our IP expertise and tailoring our administrative and technology services to best meet their business needs."
"At a time of immense challenges for businesses and individuals around the world, we want to reassure our clients that we have business continuity measures in place to maintain this high level of service quality," added Olivier Boland, Novagraaf France's CEO.
-ends-
About Leaders League
Leaders League is a news and ratings agency for global executives. It connects business leaders with a dynamic network of business information and people who share a common passion: leadership and management excellence. The agency delivers up-to-date news, in-depth analysis and business insights through a range of formats, from Décideurs Magazine to market intelligence reports, and from top company rankings and directories to professional events and digital products.
About Novagraaf
Novagraaf, a Questel company, is one of the world's largest trademark filers, managing more than one million intellectual property (IP) assets on behalf of customers, and representing many of the world's major patent and trademark owners. Founded in 1888, the company is headquartered in Amsterdam, The Netherlands, with offices throughout Europe, including London, Brussels, Paris and Geneva, as well as in the US, China and Japan.