Novagraaf expands operations in China, opening new representative office in Guangzhou
Amsterdam/Guangzhou – IP consultancy Novagraaf announced today that it had expanded its presence in China, opening its first representative office in Guangzhou. The patent and trademark attorney firm has been active in Greater China since 2016, after it set up a commercial office in Hong Kong. However, this is the first time European and US clients have the support of a dedicated team of IP professionals for patent, trademark and design filings and associated work in China. Clients in Greater China also benefit from Novagraaf's increased presence in the region, which streamlines access to its European patent and trademark attorneys and global IP services.
Novagraaf's Guangzhou office is the first representative office of a foreign patent agency to open in China and one of the first international IP firms to settle in the Sino-Singapore Guangzhou Knowledge City International Intellectual Property Service Hall (pictured below). This Service Hall was established as a "model zone" for IP cooperation across the region and as a hub for IP support, development and commercialisation.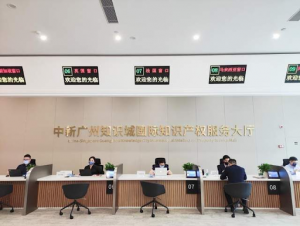 Novagraaf chose to locate its office in Guangzhou to help deliver on these goals, but also in response to growing client need for a reliable patent and trademark attorney firm in the country. Novagraaf's European and US clients, in particular, were looking for a reputable firm to support them not only with their IP filings in China but also to help them to develop their IP strategy and portfolio across the region. In the same way, the office provides on-the ground and specialist support for clients in China seeking a more streamlined solution for their IP portfolio growth strategies in Europe and the US.
"In today's fast-moving and competitive environment, European and US organisations need access to a local point of contact in China for end-to-end support for their IP assets," said Guangtao (Paul) Bu, Novagraaf's Managing Director – Greater China and Head of its Guangzhou office. "Unlike many IP firms in China, which simply manage IP formalities for their European and US clients, Novagraaf Greater China can offer a wider and more complete range of IP solutions, from portfolio management and strategy to filings and administrative support."
The same applies in reverse, added Bu, who is a qualified European, French and Chinese Patent Attorney: "Clients in China can now meet and visit with a qualified European IP attorney face-to-face in a physical location. This enables them to discuss their European IP filing strategies with a local expert and send instructions in their preferred language."
Novagraaf has ambitious growth targets for the region, explained Philippe Vigand, Managing Director – Patents for the Novagraaf Group: "This new representative office in Guangzhou is the latest milestone in our ongoing investment in the region, which started when we opened our commercial office in Greater China in 2016," he said. "By providing access to qualified IP specialists in the region, clients can benefit from timely, tailored and strategic IP advice, as well as a direct connection to the wider IP services of the entire Novagraaf Group."
Headquartered in the Netherlands, Novagraaf has 19 offices worldwide, including two in Greater China, and a powerful network of more than 330 IP specialists.
---------
For more than 130 years, Novagraaf has been helping iconic brands and innovative organisations around the world drive competitive advantage. One of Europe's leading IP consulting groups, Novagraaf specialises in the protection and global management of IP rights, including trademarks, patents, designs, domain names and copyright. Part of the Questel group, Novagraaf is unique in its ability to provide tailored legal expertise, efficiency-gaining administrative services and proactive commercial insights across the full lifecycle of clients' IP rights.