Novagraaf's patent annuity services combine the efficiency and administrative benefits of an IP service provider with the oversight and legal advice of an experienced patent attorney firm. Get in touch for more information or to request a quote.
The annual renewal of patent rights requires both sophisticated technology and a global network of reliable agents. Novagraaf's patent renewals services give customers peace of mind that their patent portfolios are being safely and cost-effectively maintained.
Seven steps to success
Download our infographic for a step-by-step guide to patent annuity management at Novagraaf. Our experience and global agent network enables us to provide a competitive fixed-fee cost structure for all patent annuities, based on the number of cases managed and the level of service you prefer.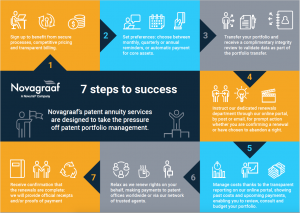 Why work with us?
Our global presence and long-standing heritage in this field enables us to offer our customers:
An extensive range of patent maintenance services, from automatic payments to case-by-case reminders, enabling you to choose the best level of service for your budget and requirements;
A transparent fixed-fee cost structure that includes all portfolio management and data-updating tasks associated with the renewals process;
A complimentary integrity check to validate patent data, ensuring accurate and reliable integration into our patent renewal management software;
24/7 access to patent annuity activities via our dedicated online portal, including ability to send instructions;
Access to our worldwide network of efficient and cost-effective agents; and
The support of our dedicated renewal departments, whenever or however you need it.
For more information on our service, please download the service description below or watch our introductory webinar.