Novagraaf's trademark practice recognised in this year's IP STARS and Legal 500
Amsterdam, 13 October 2023 - Novagraaf has been recommended for its trademark expertise in the latest editions of IP STARS (2023) and the Legal 500 (2024). Novagraaf was ranked as a 'Top Tier Firm' for trademark prosecution in the Benelux (Tier 1) and France (Tier 2), next to having Belgium and the Netherlands (both Tier 2) ranked individually in IP STARS, while Novagraaf's UK offices were recommended in the Legal 500.
IP STARS

Managing IP magazine recently released its latest IP STARS rankings, featuring the leading firms for trademark filing/prosecution and contentious work in more than 50 jurisdictions. The rankings are based on expertise, workload, market reputation/track record, outcomes achieved for clients, and unique strengths in a given practice area.
In this year's results, Novagraaf was once again recognised as a 'Top Tier Firm' for trademark prosecution in the Benelux (Tier 1) and France (Tier 2), next to individual rankings for Belgium and the Netherlands (both Tier 2). In addition, Eric Enderlin was acknowledged as a 'Patent Star', Ingrid Mennens as a 'Trademark Star' and Helma van de Langenberg as a 'Notable Practitioner'. Anne-Constance Lacoste, Nicolas Maes and Carrie Duijn were mentioned as 'Rising Stars'. 
Commenting on the firm's recommendation, Novagraaf Belgium's Managing Director, Ingrid Mennens said: "I'm thrilled to announce that our Belgium team has once again received recommendations for its exceptional services in Trademark Prosecution this year. Additionally, we're honoured to be acknowledged as a Tier 1 trademark attorney firm.
We firmly believe in the significant impact of a meticulously planned IP strategy on company growth and competitive market position. Our dedicated team of attorneys and paralegals is committed to defending and protecting the interests of our clients, with whom we work in close cooperation." 
Novagraaf Netherlands' Managing Director, Helma van de Langenberg said: "I feel very honoured to be recognised as a Notable Practitioner in IP STARS. This recognition reflects the hard work and dedication of our entire team at Novagraaf Netherlands. We continually strive to provide our clients with high-quality intellectual property services and innovative solutions. It's great to see our efforts being noticed and appreciated by our peers and the industry. We will continue to strive for excellence and work with our customers to protect and grow their intellectual property."
The Legal 500
For the twelfth year running, Novagraaf's UK offices have been recommended in the PATMA Trademark Attorney (Technology, Media and Telecoms) section of The Legal 500.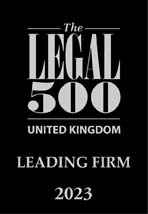 The Legal 500 is collated independently by legal publisher Legalese. Its team speaks to thousands of commercial clients every year, and its rankings and recommendations are based on the outcome of those discussions and on merit alone.
In this year's guide, Vanessa Harrow, Laura Morrish, Luke Portnow, and Mona Asgari were given special mention for their expertise. The client testimonials praised the firm's efficiency and communication: "The practice possesses a well-rounded team of excellent communicators that continuously strives to offer objective solutions to its clients in an efficient manner. Of particular note is Novagraaf's reach in terms of jurisdictions covered and the watch notice service that makes it easy for clients to monitor and manage their IP portfolios."
Vanessa Harrow, the Managing Director of Novagraaf UK, commented: "I am delighted that Novagraaf and the UK trademark team has once again been recommended in this year's edition of The Legal 500. We strive to act as a strategic partner our clients can turn to, and rely upon when it comes to the special task of protecting and enforcing their valuable IP.
Our strong focus on professionalism, efficiency and customer care, alongside our legal and subject matter expertise and strong network of associates means we are well-placed to assist our clients in the UK, EU and beyond.  We work hard to provide proactive commercial insights across the full lifecycle of clients' IP rights, and the Novagraaf team is, as a result, able to provide clients with the insight into their IP portfolios that they need to be able to make informed and strategic decisions. I am pleased that this has been recognised again in this edition of The Legal 500."
About Novagraaf
For more than 130 years, Novagraaf, part of the Questel group, has been helping iconic brands and innovative organisations around the world drive competitive advantage. One of Europe's leading IP consulting firms, Novagraaf specialises in the protection and global management of IP rights, including trademarks, patents, designs, domain names and copyright. Headquartered in the Netherlands, Novagraaf has 18 offices worldwide. The firm is unique in its ability to provide clients with tailored legal expertise, efficiency-gaining administrative services, and proactive commercial insights.
For further information, please contact us.