Novagraaf continues to lead the field in international trademark filings
Leading intellectual property (IP) provider Novagraaf has once again been announced as the top filer of international trademark rights (IRs) at the World Intellectual Property Organization (WIPO).
Novagraaf has retained its status as the top filer of IRs at WIPO, according to international filing statistics released this October by Clarivate (pictured below). The firm remains the top filer of international trademarks at WIPO overall, with the most active trademarks under management in the EUIPO and WIPO registries.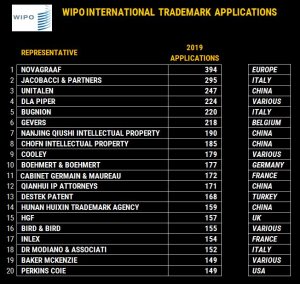 Founded in 1888, Novagraaf is one of the world's largest trademark filers and a major patent filer, managing more than one million intellectual property (IP) assets on behalf of customers, and representing many of the world's major patent and trademark owners. The company is headquartered in Amsterdam, The Netherlands, with offices throughout Europe, including London, Brussels, Paris and Geneva, as well as in the US, China and Japan.
Commenting on the firm's WIPO ranking, Novagraaf's CEO, Lutgarde Liezenberg said: "Novagraaf is proud to retain its status as the top filer of international trademarks at WIPO. Our IP attorneys and back-office specialists work hard to deliver to our clients the strategic advice that they need to inform their global filing programmes. We're happy to see that hard work and dedication pay off in the latest statistics from 2019."
For more advice and insight on global trademark filing programmes or to speak to a Novagraaf expert, contact us below.