At Novagraaf, we know that online monitoring is only part of the solution for brand owners. To make it as easy and cost-effective as possible for you to take action, we have linked and automated our enforcement services, so that you can obtain quick and instant results without having to review pages of monitoring results and instruct every single activity.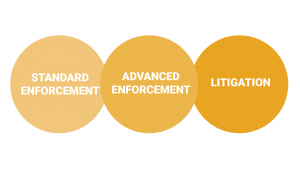 Based on our pre-agreed strategy, targets and budget, we will make 'precision strikes' on your behalf. Importantly, our service enables you to record and track activities through a web-enabled and fully secure advanced CMS, which is provided as part of the service and incorporates predefined workflows to streamline operations and expedite enforcement. 
The CMS will allow your team to take a smart approach to infringement management, by capturing centralised data, evidence and records they need to identify repeat offenders or recurring infringement. It also allows users to prioritise a variety of activities; for example, by selecting to simply monitor emerging or potential threats, or to flag activities that may necessitate further action.
Depending on the size and type of threat, Novagraaf will advise and execute the relevant enforcement services via this same CMS portal, including:
Standard enforcement (first strike): Notice and takedown letters or emails, cease and desist letters, and the standard procedures offered by platform operators are pre-agreed and automated via the CMS; 
Advanced enforcement (proportionate second strike): Follow-up activities may be necessary, and will be discussed, agreed tailored by type of threat/module, including UDRP and URS for domain names; and
Litigation (if required): Critical cases can be escalated to litigation, where disputes cannot be resolved through our standard or advanced procedures, or when those have been exhausted, through our network of select partners. 
Additional ad hoc services are also available in Novagraaf's suite of Online Brand Protection services. These include test purchases, in-depth investigations, and reputational monitoring.