Vanessa Harrow
Trademark Attorney | Manchester, United Kingdom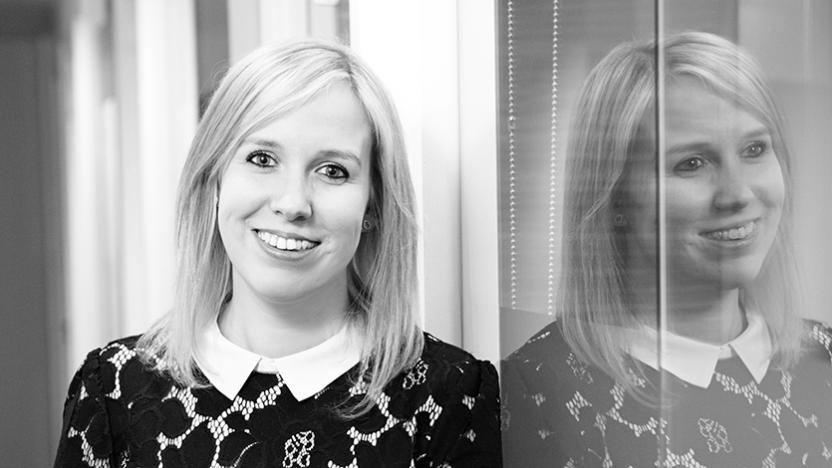 "Novagraaf is a large international / pan-EU firm with a small firm feel. I didn't want to just be another cog in the machine in my career and, at Novagraaf, I feel like a valued member of the business. The company put me through the training required to qualify as a Chartered Trademark Attorney, and my course at Nottingham (and a pre-module at Queen Mary) were funded by Novagraaf."
Vanessa joined Novagraaf in 2011 after completing an LLB Law degree at the University of Sheffield and a LL.M Intellectual Property masters at the University of Manchester. While working at Novagraaf, she completed the Legal Practice Course (LPC) at the University of Law and the Professional Certificate in Trade Mark Practice at Nottingham Law School.
A dream role
I've wanted to be a lawyer for as long as I can remember. While completing my undergraduate degree I elected to study a couple of IP modules and I instantly knew that it was the area in which I wanted to specialise. The interplay between law and commercial strategy is particularly important in IP and my career at Novagraaf has enabled me to utilise my legal knowledge and interests while developing and applying business acumen. 
IP touches everything we do, every single day and its value should never be underestimated. Helping clients realise the importance of IP, and developing commercial strategies to protect and utilise their IP, is an incredibly interesting part of this profession. To make this already fascinating practice area more interesting, trademark attorneys in particular have a great balance of contentious and non-contentious work. 
The complete picture
I joined Novagraaf as a paralegal and studied for the LPC and Professional Certificate in Trade Mark Practice part-time while in the role. During my time at Novagraaf, my job has developed to become more client-focused and my work is now more technical and strategic. My current roles and responsibilities include advising clients on their trademark and design portfolios, conducting pre-filing clearance searches, responding to UKIPO and EUIPO official actions, and handling offensive and defensive opposition, cancellation and litigation actions. We have a diverse client base and no day is ever the same as the last.
I'm looking forward to further developing my skills, knowledge and client responsibilities at Novagraaf. The support and encouragement offered by the company is invaluable. We have a great team in Manchester and throughout the UK. We all work very hard and come together to support each other.
Novagraaf is a large international/pan-EU firm with a small firm feel. I didn't want to just be another cog in the machine in my career and, at Novagraaf, I feel like a valued member of the business. The company put me through the on-the-job training required to qualify as a Chartered Trademark Attorney, and my course at Nottingham (and a pre-module at Queen Mary) were funded by Novagraaf. In addition to that, I was assigned a senior trademark attorney as my trainer/mentor, who has worked with me to develop my skills and knowledge. He and the rest of the team helped me to push beyond my comfort zone, while making sure I was properly equipped and supported. Looking forward, I also hope to raise my profile in the industry and help to promote the role of women in the IP profession.
Advice to applicants
The IP profession can be incredibly stressful but with the right team around you, it can also be incredibly rewarding. Develop good working relationships and never think you are above someone; every member of the team is important. Work hard to promote yourself, your team and the business in general but also recognise when to take a break. Don't be afraid to think outside the box, and don't be afraid to ask for help and push for what you want to achieve/learn.