Novagraaf's trademark expertise recommended in WTR 1000 2021
London, 15 February 2021 - Novagraaf has been recommended for its trademark expertise in the Benelux, France and Switzerland in the 2021 edition of WTR 1000. Several Novagraaf specialists have also been recognised for their individual expertise, including Vanessa Harrow from the UK, Chantal Koller and Anca Draganescu-Pinawin from the Swiss office, Frederik Jocqué from Belgium and Monique Granneman from the Netherlands who have been singled out for the first time in WTR 1000.
"The practitioners at Novagraaf work together efficiently, reply to questions and requests quickly, and – most importantly – think alongside their customers. They carry everything out in a cost-effective way, following thoughtful and commercially driven strategies. They also have an intuitive client management system." WTR 1000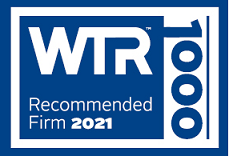 World Trademark Review has released the results of the 2021 rankings for its 'World's Leading Trademark Professionals survey' (WTR 1000), in which Novagraaf appears as a recommended firm. The magazine undertook an exhaustive qualitative research project to identify the firms and individuals that are deemed outstanding in this critical area of practice. This included factors such as depth of expertise, market presence and complexity of work, as well as positive peer and client feedback.
Novagraaf was specifically recommended in the Benelux Agencies category, the France Agencies category and the Switzerland Prosecution and Strategy Firms category in this year's rankings. From the Amsterdam office, Bart Schweitzer, Gerard van Hulst, Helma van de Langenberg and Monique Granneman were singled out for their expertise. From Belgium, Ingrid Mennens and Frederik Jocqué received individual praise, whilst Anca Draganescu-Pinawin and Chantal Koller from the Geneva office were recognised for the first time this year, as well as Novagraaf UK's Vanessa Harrow.
Commenting on the firm's recommendation, Novagraaf Switzerland's Managing Director Trademarks, Chantal Koller said:
"We are very proud to be recognised as one of the leading agencies in Switzerland by WTR 1000. It's our intention to make a difference in strategic and transactional aspects of IP, an approach that is consistently valued by our customers and our partners as being exceptionally modern, business-oriented and pragmatic. Novagraaf's new Online Brand Protection services, led by Anca Draganescu-Pinawin from Geneva, is a good example of that: it helps businesses to meet that "more with less" challenge by integrating and automating monitoring and enforcement to take the pressure off in-house teams."
Novagraaf UK's Managing Director Trademarks, Vanessa Harrow added:
"I'm honoured to be highlighted as one of the UK's leaders in the area of prosecution and strategy. The goal of the UK team, as with all Novagraaf experts, is to maximise the potential of our clients' IP assets and to deliver the portfolio insights they need to achieve their commercial objectives. IP strategy and portfolio management is becoming more and more important for businesses, in particular with the changes and challenges introduced by COVID-19 and the UK's recent departure from the EU. At Novagraaf, we work as trusted partners with our clients to ensure their IP strategy and portfolio management is able to adapt and meet the ever-changing challenges faced by businesses." 
-ends-
About Novagraaf
Novagraaf, a NovumIP company, is one of the world's largest trademark filers, managing more than one million intellectual property (IP) assets on behalf of customers, and representing many of the world's major patent and trademark owners. Founded in 1888, the company is headquartered in Amsterdam, The Netherlands, with offices throughout Europe, including London, Brussels, Paris and Geneva, as well as in the US, China and Japan.
For further information, please contact us.